Facebook Marketplace Auto Reply Solution
Create a Facebook Marketplace Auto Reply for "is it still available?"
How to set auto reply in Facebook Marketplace?
With our step by step guide you can set-up your own auto reply in just 5 minutes for the frustrating question of "Is it still available?" or any other question people ask you on FB Marketplace. You will just need an Android device to install an app. Unfortunately it doesn't work for iOS yet.  
Things you will be able to do: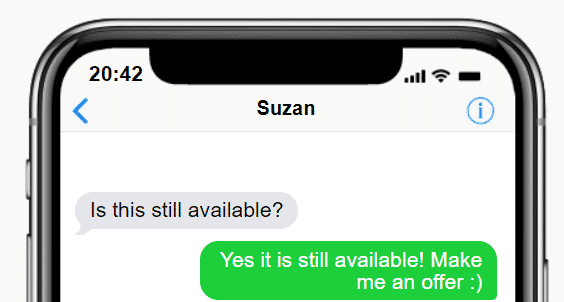 What if it's not what I was looking for?
If it's not what you were looking for then we will refund 100% of the money within 3 days. Please note that you need an Android device for it to work.
Customers' Testimonionals
"I had been looking for a way to stop getting those annoying messages from people who are not even interested, but couldn't find anything. So, I was happy to learn about this solution which at least replies for me so I don't have to 🙂"
"Easy to use and simple to set up. It saves me plenty of time😊"
"I'm a using Facebook marketplace to sell electronic equipment and I would get hundreds of messages asking the same thing (Still available?) and it would drive me crazy. Now I let the auto-reply do it and I can focuse in talking to people who are really interested"
Buy a step-by-step guide to set up your own automatic replies for Facebook marketplace's question "Is it still available?". The set up will take you 10 minutes and you can download the document inmediately after making the payment. You will be able to send unlimited auto-replies. Requierements: You will need an Android device.
Frequently Asked Questions

Have any questions? Send us a message and we will get back to you as soon as possible
Facebook Marketplace Auto Reply
Step up your own auto reply for the products and services you are offering in Facebook marketplace. In under 10 minutes you will have an automatic reply to send all the people who contact you.
Course Provider: Organization