Facebook Marketplace Auto Reply Service
Create a Facebook Marketplace Auto Reply for your most asked questions today!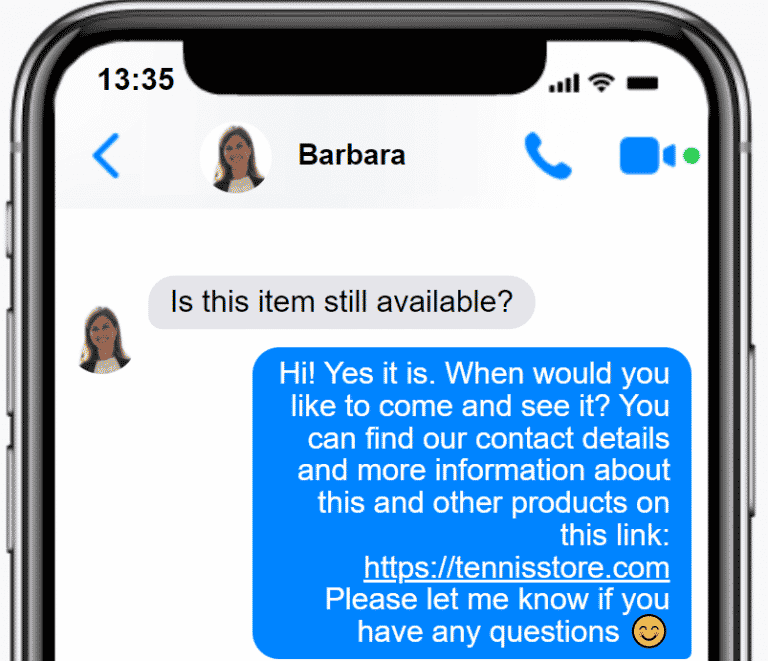 How to set auto reply in Facebook Marketplace?
When using Facebook marketplace it's normal to receive dozens if not hundreds of messages per day. Most messages are likely to contain the same questions which could be replied to with standard auto replies. For this reason and since it's important to reply as soon as possible to not lose the interest of the customer, we have created a solution to answer instantly to potential customers' most common questions. To set it up you just need to subscribe to one of our plans and one of our team member will get in contact to guide you through the setup.
Things you will be able to do:
What if it's not what I was looking for?
If it's not what you were looking for then we will make you a refund within 3 days. 
Want to see the Auto Response tool in action?
We created this listing so you can send a message and see how it works:
Customers' Testimonionals
Create up to 10 different custom answers
Choose what keywords should trigger each answer
Send replies inmediately or wait a few seconds
Reply to unlimited people per month
No commitment, cancel your subscription at anytime
Price is charged per facebook account per month
Discount available when buying more than one subscription
Payment is handled securely by PayPal
Reply immediately to the first message people send you
Reply to unlimited people per month
Write the custom reply that best suits you
No commitment, cancel your subscription at anytime
Price is charged per facebook account per month
Discount available when buying more than one subscription
Payment is handled securely by PayPal
Frequently Asked Questions