Facebook Marketplace Auto Reply Service
Create a Facebook Marketplace Auto Reply for "is it still available?"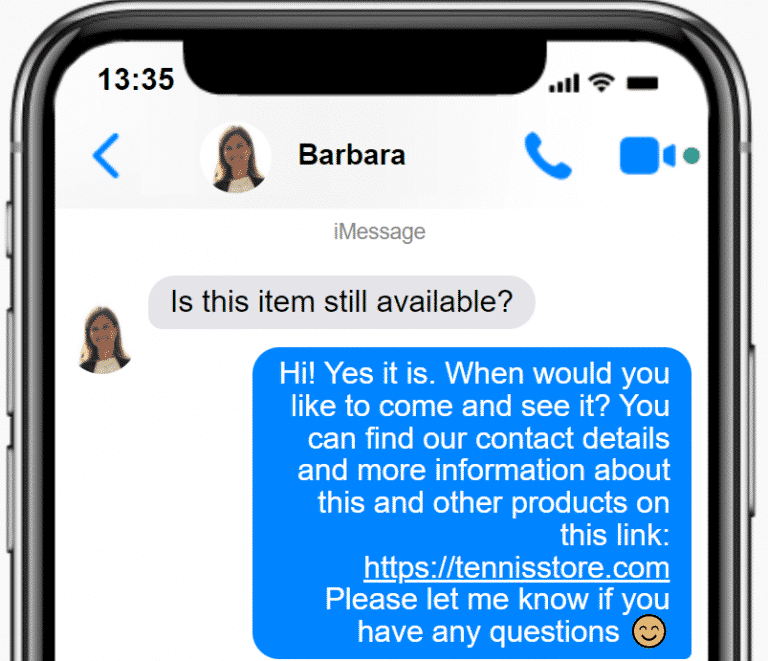 How to set up Facebook Marketplace auto reply?
When offering products or services in Facebook marketplace it is normal to receive dozens if not hundreds of messages per day. Many of these messages are likely to contain the same questions which could be replied to with a standard autoreply. Unfortunately, Facebook does not offer the option to send automatic replies to messages you receive in the Marketplace. For this reason and since it is important to reply to questions ASAP to not lose the interest of the customer, we have created a solution to answer instantly to the first message you receive from potential customers. 
Things you will be able to do:
What if it's not what I was looking for?
If it's not what you were looking for then we will make you a refund within 3 days. 
Want to see the Auto Response tool in action?
We created this listing so you can send a message and see how it works:
Customers' Testimonionals
"I had been looking for a way to stop getting those annoying messages from people who are not even interested, but couldn't find anything. So, I was happy to learn about this solution which at least replies for me so I don't have to 🙂"
"I use it to ask potential tenats to tell me about their current work status and other information I need in order to move forward in the tenant screening process"
"I'm a using Facebook marketplace to sell electronic equipment and I would get hundreds of messages asking the same thing (Still available?) and it would drive me crazy. Now I let the auto-reply do it and I can focuse in talking to people who are really interested"
For $9.95 per month you can reply immediately to the first message people send you on Facebook Marketplace. No commitment, cancel your subscription at anytime. You can send auto replies to unlimited people per month with your contact details or questions you need to ask them before moving forward in your sales process. You can cancel your subscription at any time. The payment is handled by PayPal so you will be redirected to PayPal's website to make a secure payment.
Frequently Asked Questions